Spawning Season Continues in Lagunitas Creek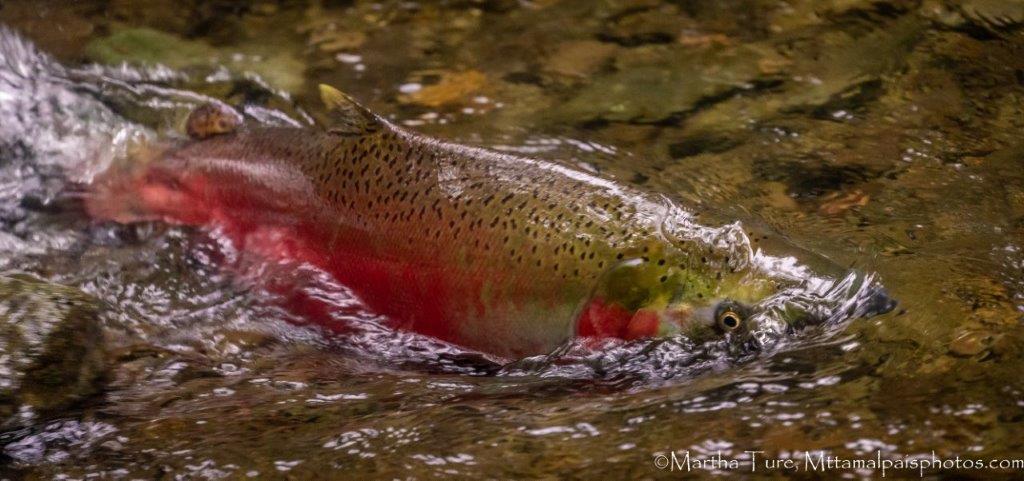 Coho salmon spawning ramped up considerably in Lagunitas Creek at the end of December. Biologists with Marin Water and the Watershed Stewards Program observed 87 coho salmon and 45 coho salmon redds (gravel nests) spread throughout the creek. So far we've observed 144 coho salmon and 57 redds, which is already close to last year's total. Unlike last year, quite a few salmon have been spawning at the Leo T. Cronin fish viewing area, which is the easiest place for the public to see them.
With additional rain we should see more salmon migrating and spawning through the end of the year and into January. If you go out to see the salmon, please remember to stay socially distanced. The fish viewing area is likely to be crowded and isn't the only place to see fish. Salmon are spawning throughout Samuel P. Taylor State Park and the Cross Marin Trail offers many places to catch glimpses of them. They tend to build their redds in areas where slow water transitions to fast, turbulent water. Look for pink and red flags along the banks, which mark the locations of recent redds. If you know where the Swimming Hole is, we recently saw a school of a dozen Coho in there.