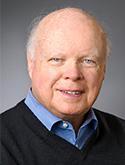 Division I
Includes Sleepy Hollow, northwest portion of San Anselmo, Terra Linda, Santa Venetia, Marinwood, Lucas Valley, and portions of San Rafael near Highway 101 in the Lincoln Avenue and Dominican areas.
Term
December 7, 2018 to December 2, 2022
Committee Assignments
Vice Chair of Finance & Administration Committee and Communications & Water Efficiency Committee.
Bio
Director Jack Gibson was first elected to the Marin Water Board of Directors in 1994 and he has served continuously on the board ever since.
A graduate of the University of San Francisco School of Law, Director Gibson has been a practicing attorney and legal educator since 1971. He has his own law practice in Marin County and specializes in business, estate planning, and real estate law. He has provided pro bono legal services to many community non-profit organizations and also has served on several non-profit agency boards of directors.
Director Gibson has a lifelong interest in history and prior to becoming an attorney he was a history teacher in San Francisco. He is the author of Mount Tamalpais and the Marin Municipal Water District, published by Arcadia Press in 2012 to commemorate the district's centennial.
Director Gibson represents Marin Water on the North Bay Watershed Association (NBWA) Board of Directors and is the chair of NBWA board. He also represents Marin Water on the North Bay Water Reuse Authority Board of Directors, the Sonoma County Water Agency Water Advisory Committee, and the executive committee of the recently formed Tamalpais Lands Collaborative, a partnership with three other Marin County public land managers and the Golden Gate National Park Conservancy.
Director Gibson is a longtime resident of Sleepy Hollow.